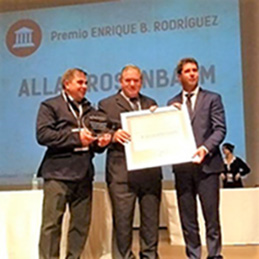 Dr. Allan Rosenbaum receives the Enrique B. Rodriguez award for his work on building local democracy and good governance in Latin America
During its 12th Congress, the Ibero-American Union of Municipalists (UIM), awarded its highest honor, the Enrique B. Rodriguez Municipalist Award, to Dr. Allan Rosenbaum, the Director of the Institute for Public Management and Community Service (IPMCS) at Florida International University (FIU) in recognition of his more than 25 years of work in building and strengthening local governments and promoting good governance throughout Latin America. Dr. Rosenbaum is the first North American to be so honored by the UIM, a Spanish government supported non-governmental organization which is based in Granada, Spain and has worked throughout Latin America for over a quarter century.
The award, was presented by UIM's President, the Governor of San Juan Provence in Argentina, Mr. Sergio Uñac, and Dr. Federico Castillo Blanco, General Secretary of UIM in a special ceremony that took place in Manizales, Colombia. Dr. Rosenbaum was nominated for the award by many national and international Latin American organizations including:
· The Center for Participation and Sustainable Human Development (CEPAD) in Bolivia.
· The Dominican Federation of Municipalities (FEDOMU) of the Dominican Republic.
· COPLANEA of Paraguay.
· The Latin American Federation of Cities and Municipalities (FLACMA).
· The Department of Political Science of the Autonomous University of Madrid.
· The Local Government Unit of the University of Quilmes, Argentina
· The University of Santiago de Chile.
The award recognizes the work of individuals who have distinguished themselves by their lifetime efforts in the fields of municipalism, government decentralization, modernization of administration and public management, promotion of local development and strengthening of local governments. Dr. Rosenbaum has worked on these matters in almost every country of the hemisphere, either in conjunction with national or local governments or in leading projects supported by organizations like the world Bank and the US Agency for International Development.
The institute which Dr Rosenbaum directs has also, for over two decades, annually organized the Inter-American Conference of Mayors and Local Authorities, an event which each year brings together more than 600 local leaders from across the hemisphere who benefit from the exchange of experiences among colleagues, as well as access to information and training on topics that are of interest and value to them for the strengthening and promotion of municipalism, political decentralization, modernization of administration and public management.